When it comes to choosing the right siding material to protect the average American home, it can be easy to get overwhelmed by all the choices. From Vinyl to Aluminum to Wood, homeowners have a lot to consider when deciding which is the best choice for their home.
The type of materials used in the construction of the home, the environment the home is located in, aesthetics, and cost are just some of the factors that anyone looking to re-side their home has to consider.
Here are a few tips on some popular siding options to help clear away some confusion, and help the average consumer be able to tell heads from tails when it comes time to speak to a contractor about getting their home's siding replaced.
Vinyl Siding – Vinyl is by far the most installed type of siding available on the market today. The reason for its immense popularity is a combination of durability, cost-effectiveness, and looks.
On average, vinyl will run around $5-$6 per square foot for complete siding installations. It comes in practically any color imaginable and is virtually unsurpassed in its ability to protect a home from the elements for decades.
Premium Vinyl's replicates the look of cedar wood for a natural appearance. Premium quality vinyl is often thicker and comes with a manufacturer's promise of longer life.
Aluminum Siding – These days you will discover fewer and fewer homes covered in aluminum siding. This is mostly because better products have come along, and the efficiency and cost of aluminum just isn't what it used to be.
Fragile, prone to breaks and bends, and heavier than other materials, aluminum is rarely installed except in special circumstances where aesthetics or original restorations are desired.
Wood Siding – Requiring a bit more customization, natural wood siding can be a great upgrade to the appearance of any home. The rustic appearance of the old rural farmhouse is in vogue and has popular appeal in today's remodeling market.
Wood siding can be customized in a variety of ways. Long planks for an overlapping look or even individual shingles can be crafted to give a cottage effect.
Wood is strong, and natural in appearance, but best suited for dryer climates. Care must also be taken to protect wood from natural enemies like termites, wood ants, and other pests.
Wood also will need some periodic maintenance to keep it looking good for the duration of its lifetime. A sealer or stain is recommended and should be reapplied every year or so.
Fiber Cement Siding – The newest member of the home siding family is Fiber Cement. A combination of wood pulp, clay, sand, and cement, this unique type of manufactured siding can be also be made to look like natural wood.
It should be noted that this is not the same type of fiber siding from several decades ago, which contained materials later found to be toxic.
Today's version is 100% safe and although a bit pricier than many other options, it also lasts much longer. It can be printed to come in any color. Periodically, Fiber Cement siding may require a contractor to re-caulk seams and termination points that may become deteriorated over time. Re-painting is usually necessary within 10 to 15 years of installation.
At Jackson Insulation & Exteriors, we use only the highest quality siding supplies and products on the market. We also offer free estimates for all prospective clients. Whether your siding needs repair, removal, or a complete overhaul, we offer a service to meet your needs.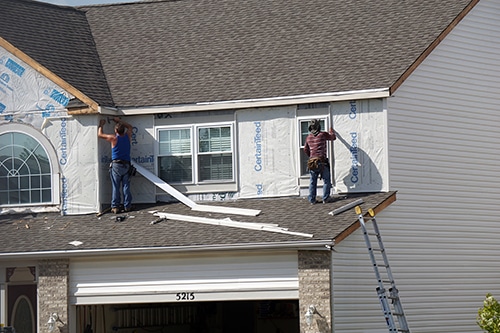 We provide expert installation of the following:
Vinyl Siding (Horizontal and Vertical)
Aluminum Siding
Fiber Cement Siding
LP SmartSide
Vinyl Shapes (Fishscale, Shakes, etc)
Housewraps (Tyvek, Typar, etc)
Weather flashings, sealants, and tapes
Jackson Insulation & Exteriors Co., Inc.
Fully Insured
5-year Warranty on all workmanship
Wide variety of colors, textures, and styles from all Major Manufacturers
Industry Best Warranty on materials from Major Manufacturers
17,000 satisfied customers over 38 years in business!