Are your gutters filled with leaves? Are the leaves wreaking havoc on the drainage? Are you tired of risking your life climbing a ladder to "de-leaf" your gutters?
At Jackson Insulation & Exteriors, we provide expert installation and knowledge of leaf protection systems for your gutters. Contrary to advertiser claims there is no such thing as the perfect leaf protection system! The type of leaf protection we install offers the best blend of style, performance, reliability and price. Our product will not create winter ice dams or severe icicles unlike most "dome" and "cap" type products, where this is a common occurance. A leading consumer reporting magazine tested all types of leaf protection systems and advises that a basic, well manufactured screen type material offers the best blend of price and performance. WE AGREE! The product we have used for years is called SpeedScreen.
SpeedScreen
SpeedScreen is an aluminum mesh-type product that allows leaves and debris to rest on top of it while keeping your gutters clean to allow water to flow. SpeedScreen is cut to fit for the length of the gutter run and is overlapped at the seams to keep leaves and debris out. The front edge of the SpeedScreen clips into the front edge of the gutter and the back edge rests on the hangers, under the roof shingles. This maintains rigidity and does not affect the integrity of your shingles or the roof's warranty. This product has several names including leaf guards, gutter guards, and gutter protection.
Jackson Insulation & Exteriors Co., Inc.
Fully Insured
5-year Warranty on all workmanship
Variety of colors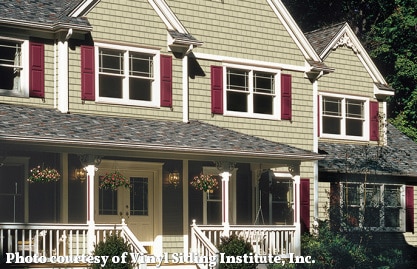 Our products separate people from the elements and our workmanship separates us from all others…